One Touch Jura Automatic Coffee Machines
Welcome to OneTouchEspresso.com!
Jura - One Touch Automatic Espresso Machines. JURA is redefining the standard for automatic espresso coffee machines. These professional machines are perfect for the home, built to withstand commercial use, and equipped with the latest technology for outstanding results. Expect top-­quality ­materials and with Swiss precision Jura. Controlling your Jura automatic coffee machine via your smartphone or tablet is now a reality! No, we are not kidding you...
Click: Jura J.O.E.® - Smart Connect for details.
Jura Giga 6 Automatic Coffee Machine
Enjoy Americanos at the touch of a button and simultaneous coffee and milk preparation for the fastest caffè lattes ever

The GIGA 6 combines the bean-to-cup magic of past GIGA models with innovative, convenient new features that save time, produce delicious results and expand the possibilities of a countertop coffee machine

Twenty-eight specialty drinks—including cortado, flat white, cappuccino, latte macchiato, caffè latte and espresso—are made hot and just the way you like with a single touch of a button from its intuitive 4

3" color touchscreen display.

Two ThermoBlock heating systems and two pumps brew coffee and dispense milk simultaneously for the quickest caffé lattes yet.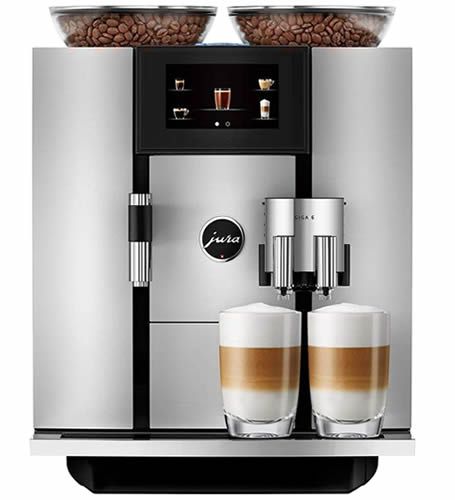 JURA Z8 Automatic Coffee Machine
Americano at the touch of a button? Simultaneous coffee and milk preparation for the fastest caffé lattes ever? The groundbreaking Z8 introduces both of these innovative technologies while providing all the best time-saving features and bean-to-cup magic that JURA is known for

Two ThermoBlock heating systems and two pumps allow the Z8 to brew coffee and dispense milk simultaneously for the quickest caffé lattes yet

One-Touch Americano function uses a special preparation method that combines the coffee with hot water during the extraction process, resulting in full-bodied, deliciously light, aromatic specialties

brbrOffering an incredible range of specialties, the Z8 prepares 21 beverages (16 of which are programmable) with a single touch of a button on its 4

3" high-resolution color touchscreen display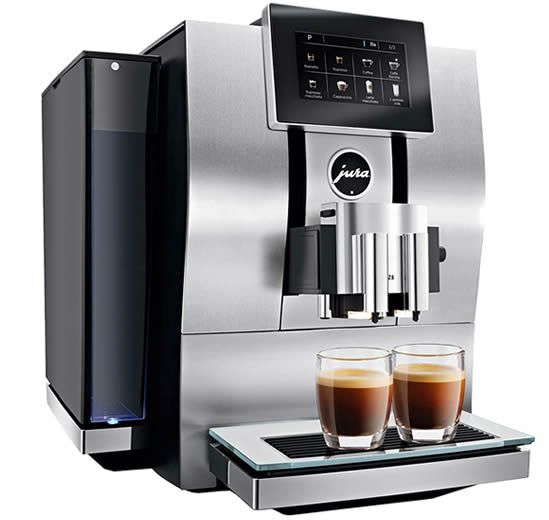 JURA S8 Automatic Coffee Machine, Chrome
ONE TOUCH: Prepare 15 barista quality specialties including espresso, coffee, cappuccino, flat white and latte macchiato at the touch of a button.
PERFECT ESPRESSO: Ultimate coffee quality thanks to JURA's exclusive Pulse Extraction Process.
CONICAL BURR GRINDER: Fast and precise AromaG3 grinder grinds whole beans to the optimum fineness.
ECO FRIENDLY: JURA is always freshly ground, not capsuled - fresh taste with very limited waste - single serve machine.
CAPACITY: 64 ounce water tank, 10 ounce bean container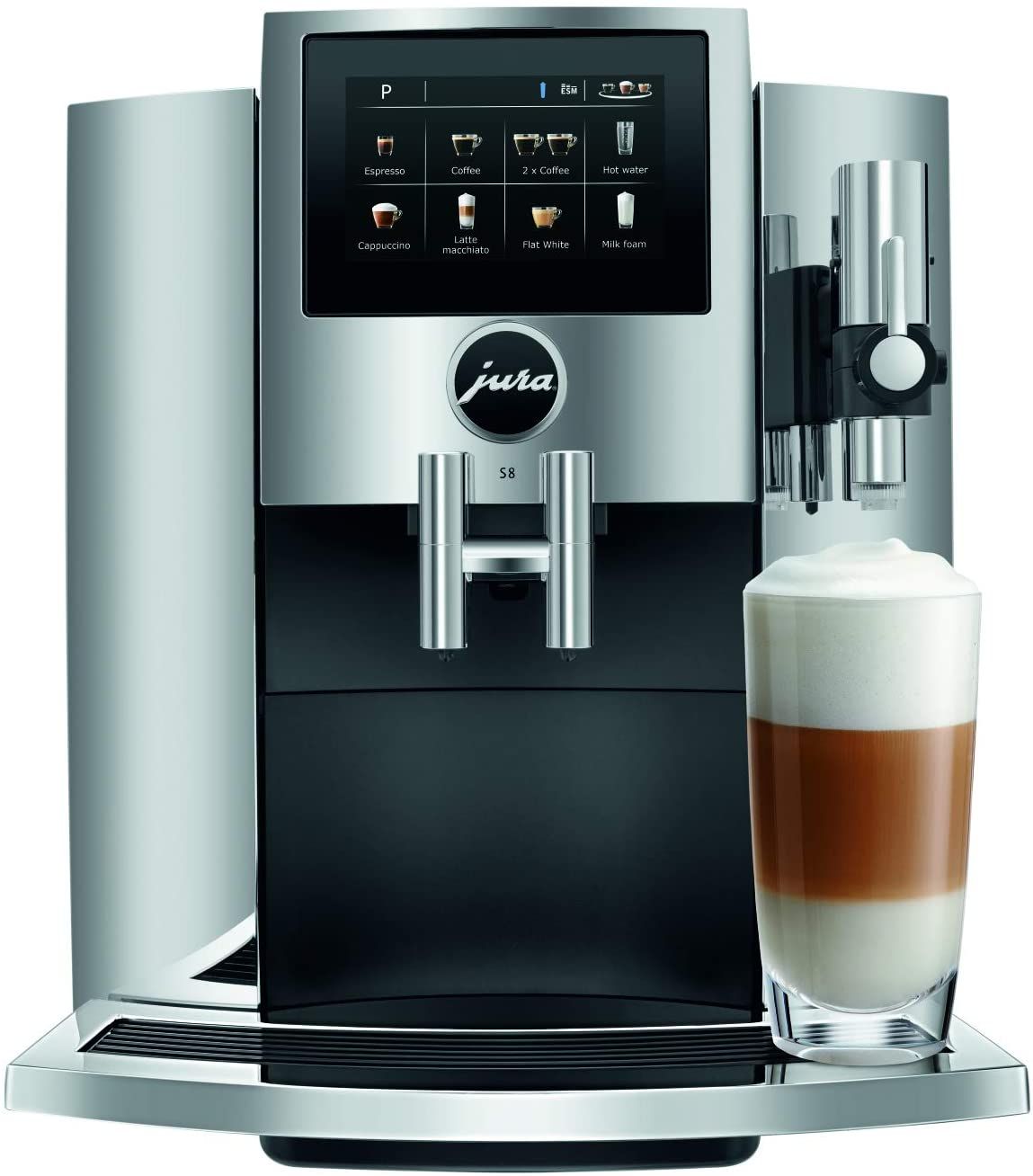 Jura 15070 E6 Automatic Coffee Center
BUNDLE INCLUDES: Jura E6 Automatic Coffee Center (Platinum) with ura CLEARYL Smart Filter Cartridge, Jura 64308 2-Phase Cleaning Tablets (6 Count), Stainless Steel Frothing Pitcher (20oz), Two 3 oz. Ceramic Tiara Espresso Cup and Saucers and Capresso East Coast Blend Coffee Beans Medium Roast.
EXTRACTION: The secret of exceptional coffee lies in the preparation. JURA has 100% perfected the espresso brewing process, allowing the E6 to make specialty coffees to professional barista standard. The Pulse Extraction Process (P.E.P.) developed by JURA optimizes the extraction time.
WATER SYSTEM: CLEARYL water filters supply perfect water quality for the best possible flavor. They also protect the coffee machine against limescale and remove substances that could impair flavor and aroma
EASY: Buttons for the espresso, coffee, cappuccino and milk foam functions are all positioned on the front for maximum convenience
FAST: Dual coffee and milk spouts make it possible to prepare a cappuccino without moving the cup. The E6 can even prepare two drinks at the same time, making it ideal for couples or entertaining.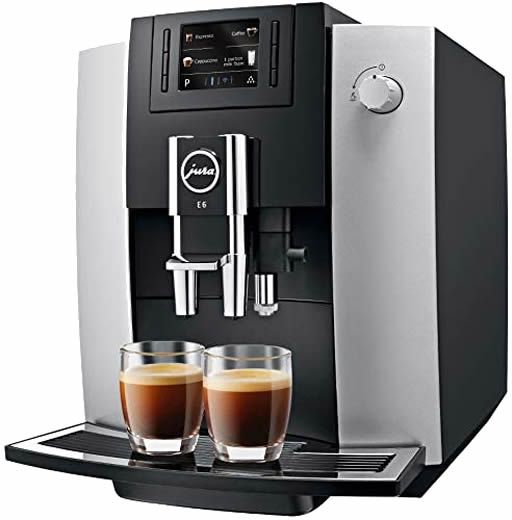 Jura D6 Automatic Coffee Machine
VERSATILITY: Cappuccino, espresso and coffee maker

OPERATION: Plain text display or Smart Connect App control

CUSTOMIZATION: Adjustable water level, coffee strength and temperature

GRINDER: Fast and precise AromaG2 integrated grinder

TECHNOLOGY: Flavor optimizing Pulse Extraction Process technology
-Individual cup brewing
Automatically grinds whole beans, tamps and freshly brews each cup for optimum flavor and aroma.
-One-touch preparation
Prepares perfect coffee specialties at the touch of a button, in less than 60 seconds.
-Programmable and adjustable
Personalized brewing strengths, volumes and height adjustable coffee spout.
-Perfect milk foam
Produces perfectly rich milk foam for one-touch cappuccino.
-Cost savings
Prepares professional coffee shop beverages at a fraction of the cost.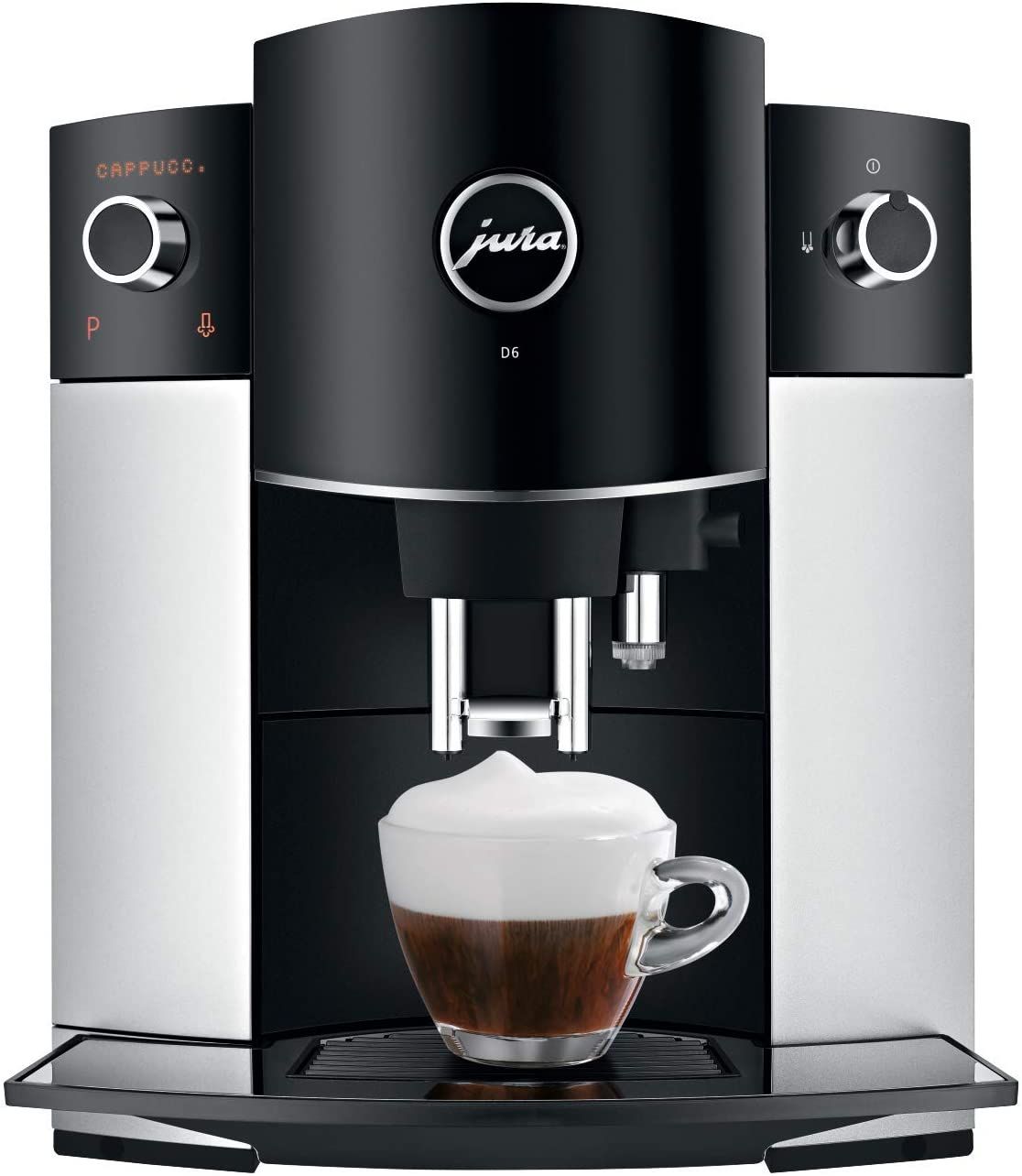 Related